Popis produktu
Puzzle z fotky s 1000 dílky je náš nejprodávanější výrobek. Vaše krajinné a rodinné fotografie stejně jako veselé momentky nabývají významu nejlépe v plné velikosti. Pro příznivce a kamarády puzzle je 1000 dílků atraktivní výzvou. Zde si můžete skutečně Vaše vzpomínky vyrobit sami. Zažijete, jak Váš domácí mazlíček, Vaše rodina nebo Vaše dojmy z loňské dovolené znovu ožijí pod Vaší vlastní rukou!
Zdokonalte Vaše puzzle z fotky s 1000 dílky úžasným oslnivým stříbrným rámečkem. A to nejlepší: složením puzzle z fotky s 1000 dílky se z Vás stává profesionál a zároveň oživíte stěny Vašeho bytu. Z jakého motivu budete mít největší radost - to už je na Vás. S rozměry 64 x 48 cm Vám puzzle z fotky s 1000 dílky nabízí dostatek místa pro Vaše nejlepší motivy.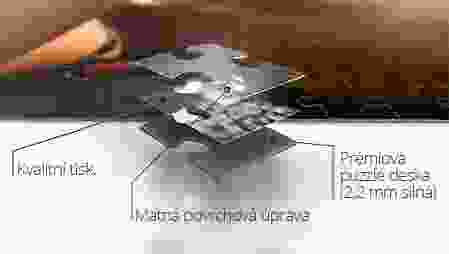 Doporučený věk
Balení
Puzzle z fotky je dodáváno rozkouskované a je v krabičce, kterou jste si sami vytvořili.
Rozměry krabičky: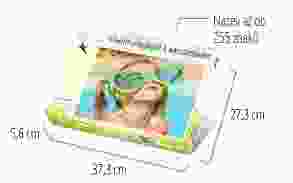 Velikost dílků:
Poměr velikosti stran:
Tipy a nápady
Minimální doporučená kvalita fotky
Kvalitu Vašeho puzzle výrazně ovlivňuje rozlišení Vašich fotek. Pro puzzle z fotky s 1000 dílky doporučujeme rozlišení (Š x V):
4530 x 3409 pixelů
Důležité: dejte si pozor, abyste nevkládali rozmazané, podexponované nebo barevně nevyvážené fotky.
Strategické doporučení:
U takto malých puzzle dílků je vždy přínosné, aby motiv obsahoval co nejvíce detailů. Nejen hlavní objekt, ale také pozadí by mělo být natolik detailní, rozmanité a barevné jak jen to je možné.
Puzzle-varianty
Vyberte si Vaše fotopuzzle:
Puzzle - příslušenství
Časté otázky
Veškeré ceny jsou uvedeny včetně 21% DPH